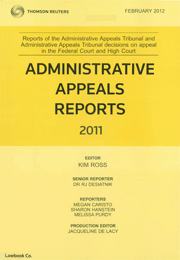 Administrative Appeals Reports Online
Online

Date: 04/08/2005

Code: 41167016

Lawbook Co., AUSTRALIA

Enquiry Sent

A member of our support team will be in touch with you within 1 business day.

Enquiry Form

Administrative Appeals Reports Online
Description
The Administrative Appeals Reports publishes significant Administrative Appeals Tribunal decisions, as well as decisions on appeal from the Administrative Appeals Tribunal to the Federal Court.
Since 1989, the Administrative Appeals Reports has provided practitioners with comprehensive coverage on a number of areas including: Aviation; Broadcasting; Bankruptcy; Citizenship; Commonwealth Employees' Compensation; Customs and Excise; Education; Environment; Export Grants; Freedom of Information; Immigration; Social Security; Superannuation; and Veterans.
Only the most significant decisions are included within this series, together with a detailed headnote which outlines the points of law, and summarises the outcome of the case to keep practitioners up-to-date with the latest important case law developments.
The online version has an archive dating from January 2003. It features links to FirstPoint to allow FirstPoint subscribers to quickly check the history and currency of a decision and includes pdf versions of the reports.
* Price is for a single annual subscription for firms or businesses with one practitioner. Practitioner is defined as employed and/or self-employed professionals within Australia including: solicitors, self-employed barristers, HR professionals and environmental specialists, corporate counsel, accountants including CPAs and CAs and registered tax agents and financial planners. For pricing for government departments and authorities and multiple users
submit an enquiry online
or call 1300 304 195.