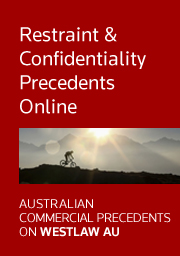 ACP: Restraint & Confidentiality Precedents Online
Online

Date: 25/03/2010

Code: 41167194

Lawbook Co., AUSTRALIA

Enquiry Sent

A member of our support team will be in touch with you within 1 business day.

Enquiry Form

ACP: Restraint & Confidentiality Precedents Online
Description
Essential precedents for commercial lawyers practicing in the area of restraint of trade and confidentiality. The precedents cover:
pre-negotiation disclosure agreements;
confidentiality agreements;
post-employment restraint of trade; and
breach of confidentiality.
Each precedent is easy-to-use, versatile and written in plain legal language and accompanied by introductory commentary.
Each precedent comes with drafting notes and optional clauses which can be hidden in the final draft, making them easy to tailor for a specific brief.
The author, Dr Robert Dean, is a commercial barrister specialising in intellectual property.